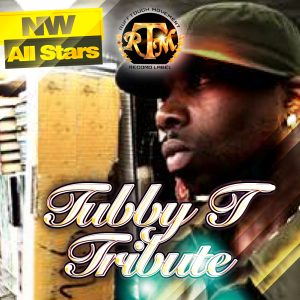 RuffTouch Music presents
NW ALL STAR TUBBY T TRIBUTE
ARTIST in order :
1.KPN     2.DARK ANGEL   3.VALUABLE   4.SPARKY    5.GAPPY RANKS   6.REDD     7.ABRAHAM
8.SWEETIE IRIE    9.SURRETA    10.G STAR     11. MR WILLIAMS    12. SMUJI
Anthony Robinson AKA Tubby T was an early starter in the vocalist game. By the time he was 13, he was singing in local stage shows in North West London and Summer Park Festival's. Tubby also recorded his first demo's around this time under tutelage of producer Trevor T. When Tubby turned 16, he was already a veteran of London stage shows, having supported sweetie Irie, General Levy, Phoebe One and numerous local acts, Tubby then began travelling outside London to perform. He began writing at 18 which recieved it's first public airing's when local sound systems began cutting DubPlate's. At the begining of 2000, Tubby hooked up with Jermaine Ford, one of the hottest dancehall producer's in the UK. The resulting sessions got Tubby aired on pirate radio stations throughout the country and this led to live gig's supporting Beenie Man and Elephant Man. Back then tubby was focusing on the UK Garage Scene, having recording session's with Carl H and SunShip, however it was when he teamed up with Sticky for 'Tale's Of Da Hood', when things truly fell into place. Tubby signed to Virgin Record's in 2002, touring all over the place but after two year's parted company due to creative difference's. For a While it seemed Tubby stepped out of the spotlight. 2004 he decided to take his career into his own hands and exploded back onto the scene with the Independent release of another massive tune 'Ready She Ready' produced by Seani B 'Big League Record's. This generated a huge buzz again, which led Tubby back to the club/live performance scene. At this point in his career he was not only establishing himself as the best Reggae artist in the UK, but also as the Premier live performer in the country. But destiny was about to deliver a devastating twist in his story….2004 Tubby suffered a Major Stroke and was hospitalised for seven months, but never fully recovered and pass away on 22nd May 2008 after second Stroke.
RIP Tubby T
ABRAHAMDARK ANGELG STARgappy ranksKPNMR WILLIAMSREDD UKRTM RECORDSRTMRADIO.NETrufftouch movementRUFFTOUCH MUSICSMUJISPARKYSURRETASWEETIE IRIETUBBY TVALUABLE